The 5 best matches of 2017 ATP Finals!
Grigor Dimitrov won his first title at ATP Finals, played at the O2 Arena in London. This is certainly the most important sports achievement for the Bulgarian tennis player who has completed the best season of his career. Glory even for David Goffin and Jack Sock. Incredible elimination of Roger Federer in the semi-final. Rafael Nadal left London after only one match, due to a new injury.
The curtain falls on 2017 tennis season, except for the Davis Cup final. Tennis World would like to recall last year tournament with the 5 best challenges played in London.
5) Jack Sock vs. Alexander Zverev - Round robin. The decisive match of the round robin to reach the semifinals. Sock, despite he lost the second partial, was able to recover and eliminate the German player in three amazing sets. He got the semis at his first partecipation at the Master!
4) David Goffin vs. Rafael Nadal - Round Robin. Only one match for Rafa, withdrew after the defeat in three sets against David Goffin, for the injury which forced him to leave London. The Spaniard has a real course with the ATP Finals!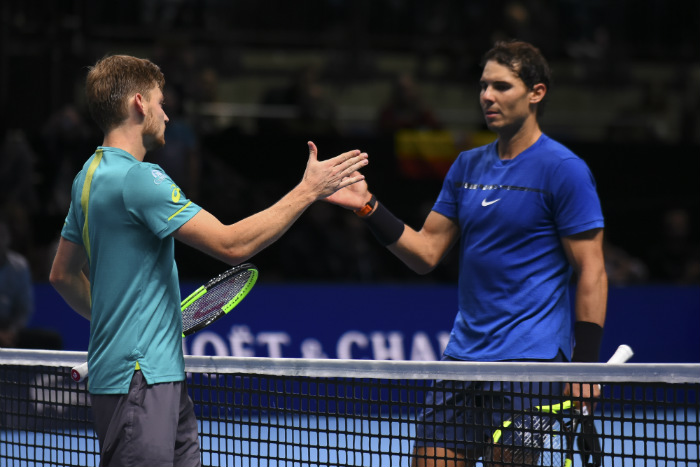 3) Roger Federer vs. Alexander Zverev - Round Robin. A confrontation between the old and the next generation. A challenge won again by the Swiss Maestro, who beat the German in three amazing sets, showed moment of great tennis and moment of nerves!
2) Grigor Dimtrov vs. David Goffin - Final. The most prestigiuos and important title of Dimitrov's career. The Bulgarian culminate a great season by defeating a super Goffin in three exciting and thrilling hard-battle lasted three sets. He won the 8th tititle of career, the 4th of this amazing season, closed as number 3 of ATP Rankings!
1) David Goffin vs. Roger Federer - Semi-final. The impossible happened in the semi-finals in London. Federer, favored for the final win, was ahead of a set. Goffin did not seem able to stop the Swiss Maestro. Then the Swiss' black-out; At the same time, the Belgian became an invaluable wall, recovering the disadvantageous set and winning a memorable match. The best and most exciting one of the ATP Finals!
Source: YouTube