September 6th: On This Day in US Open History...
5) US Open 1920 - September 6th Bill Tilden
In 1920 Bill Tilden won the first of a total of 7 US Open titles, beating Bill Johnston in the finals by 6-1 1-6 7-5 5-7 6-3 when the tournament was still played at the West Side Tennis Club in Forest Hills N.Y.
To date, Bill is still one of the only three men capable of winning the US Open a total of 7 times. Roger Federer, with 5 titles, follows in the special chart. The data doesn't count the distinction between Open Era and Amateur Tennis.
4) US Open 1998 - September 6th Steffi Graf
In 1998 Steffi Graf played her very last match at the US Open.
The German, who two years before had won her 5th US Open title, was beaten by Swiss Patty Schnyder by 6-3 6-4. Eleven months after that match Graf would announce her retirement from tennis, on August 3, 1999. 3) US Open 1999 - September 6th Seles and Capriati What you see above are the highlights of what has been considered one of the greatest women's tennis matches of all time.
Monica Seles managed to beat Jennifer Capriati in 1991. Because of the greatness of that match, there were tons of expectations when the two were draw to meet again in 1999 in New York on September 6th. The match, unfortunately, wasn't as great as the one played 8 years before had been.
Seles in the end won by 6-4 6-3 in the round of 16. 2) US Open 2000 - September 6th Todd Martin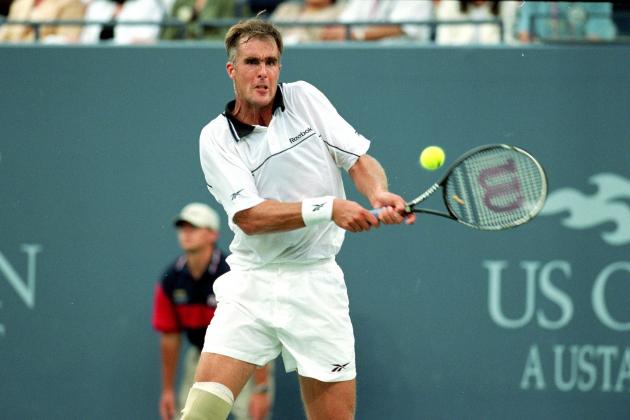 In a match that many Americans still remember vividly, 15 year after it happened, Todd Martin came back from two sets down to beat World No.
1 Carlos Moya in five sets with the final score of 6-7(3) 6-7(7) 6-1 7-6(6) 6-2. The match finished at 1:22 a.m. Todd saved a match point at 6-5 in the fourth set and won this fourth round match after four hours and 17 minutes.
1) US Open 2008 - September 6th Rainy US Open
In 2008 insisting rain forced the organizers of the US Open to schedule the men's semifinals on September 6th on two different courts.
Federer beat Djokovic in four sets on Arthur Ashe, whereas Murray and Nadal were stopped in the third set on Louis Armstrong. The heavy rain forced the organizers to reschedule the women's final on Sunday and the men's final on Monday for the first time since 1987.
The juniors finals had to be moved to Sound Shore Indoor Tennis Club in Port Chester, New York. .