by David Cox Twelve months ago Angelique Kerber was on the verge of quitting tennis for good. Now she's inside the world's top ten and a contender for an Olympic medal. David Cox caught up with her at London 2012.

Women's tennis has seen some extraordinary renaissance stories over the past decade – Kim Clijsters' triumph at the 2009 US Open will stick long in the memory, coming as it did, just a month into her comeback after the birth of her first child.
Justine Henin and Martina Hingis also found a way back to the top of the game after taking time out.

However while we all knew those girls had the talent and the mentalities to cut it at the very highest level, we've rarely seen someone completely reinvent themselves midway through their career.
Twelve months ago I was courtside at Wimbledon to watch a 23 year old Kerber lose in three sets to British wildcard Laura Robson. While Robson received deserved plaudits for showing the tenacity to close out a match which had been on her racket for the best part of two hours, us British hacks would have been bitterly disappointed if she'd lost.
In our eyes, Kerber was a journeywoman, a player with no obvious weaknesses but no obvious strengths either, lacking that crucial X factor to take her to the top 50 and beyond. Only Robson's visible nerves and inexperience had prevented her enjoying a far more routine win.

If someone had told me that twelve months on, the left-hander would be entrenched in the top ten after reaching two Grand Slam semi-finals I'd have asked what they were taking. But perhaps the key to Kerber's success lies in her reaction after that first round Wimbledon defeat.
Many players ranked 70 odd in the world would have been content with the prize money and moved on. But Kerber wanted more. Unsatisfied with perennial early exits in the slams, she initially considered quitting the game for good.


"I did seriously consider quitting tennis in the weeks after Wimbledon last year. I spent some days at home weighing up the pros and cons," she says. "At that point I'd lost like 11 or 12 tournaments first round.
I took a break and had three weeks practice before I went to New York. I think this was the tournament that changed everything for me. I had nothing to lose. My goal was just to win one round. I won one round. Then, I don't know, I beat [Agnieszka] Radwanska and [Flavia] Pennetta and after this I really started to believe in me."
"I started realizing that playing tennis is what I want more than anything else.
I knew I had to make drastic changes. I started to practise more and more and made good preparations for the 2012 season. I couldn't be happier about the decisions I eventually ended up taking and where it has led me so far."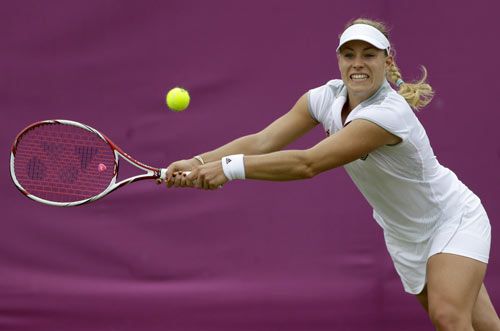 "Obviously many things have changed and it seems unreal that the odds can change this drastically within a short period of time.
The way I look at it, it's a great example of how self-belief and hard work pays off in the end."

Kerber's story is a real inspiration to all those players who dream of one day mixing it with the stars at the slams.
But what's changed ? I've seen her in action a few times this year, at the Paris Indoors (which she won, beating Maria Sharapova along the way), in Copenhagen and of course at Wimbledon. The basic foundations of her game are still there, she's always been very solid and a tough competitor but her court coverage has improved immensely and she's far more effective offensively.
The lefty forehand is now a real weapon and the double hander isn't bad either. This is certainly a by-product of the new confidence she has in her game but also perhaps a greater realisation that to make it to the top of the game, you need to be able to dictate play.
Being durable in the rallies will cut it in the ITF events but to move through the top 100 you have to be capable of stepping up the court.

Kerber is quick to attribute the hours spent in the gym last December to her success this season.
"It's absolutely required to be at the top of your game, especially physically, to compete at this level," she says. "Improving my fitness has been my main focus. I concentrated a lot on this during the off-season and I continue working hard on it.
It's crucial to surviving week by week on tour and staying healthy. "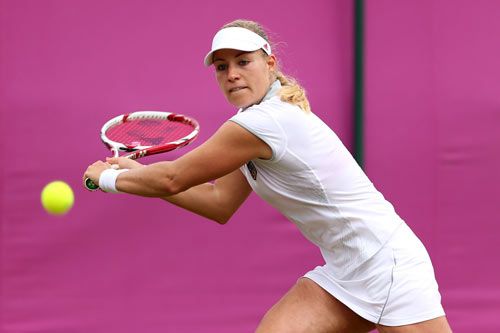 And her success has also brought unexpected rewards, such as being able to compete in the Olympics. German tennis is enjoying a new golden era with Sabine Lisicki, Andrea Petkovic, Julia Goerges and Mona Barthel all enjoying significant ranking rises of late and with each country restricted to nominating a maximum of four players, Kerber looked unlikely to qualify for the Games a year ago.
Now, after her Wimbledon run, a medal is a distinct possibility.
"The Olympics are more than special for me," she beams. "It's not a usual tennis tournament, it stands way above it. Throughout the year, I compete in many tournaments all over the world, but being part of the Olympic tournament has been a dream for me ever since I can imagine.
I'm very excited to be here, being part of it all and enjoying every moment."