Tennis World Magazine - Classic Tennis Reads
This review was originally published in Tennis World Magazine Book: The Player
Author: Boris Becker
Publisher: Bantam Press
Date: 2004
Score: 7/10 "I complained on the tennis courts," Boris Becker says in the foreword of his autobiography.
"I cried, I spat, bled and winced in pain. I protested, and annoyed everyone, from my fellow competitors and my coaches to the spectators and my parents." Anyone who remembers Becker's playing days will find this to be a remarkably honest and forthright assessment of the German's on-court antics.
Nobody ever accused him of being boring (though they called him many other things), and to this day he remains one of the most fascinating figures in tennis history.
One would think, then, that an interesting autobiography would almost write itself.
After all, the man has a whole career's worth of tennis at the very top of men's tennis to relate. Add to that the many off-court controversies Becker has been a part of, and you'd think The Player would easily be able to creep upwards of 500 fascinating pages.
Unfortunately, however, the hardcover edition of the book weighs in at fewer than 300 pages, which is somewhat skimpy when compared to other similar biographies. Andre Agassi's recent book, Open, was nearly 400 pages, and it uses a smaller font size to boot.
Even more annoying is the fact that pretty significant portions of the book weren't written by Becker at all. One chapter is contributed by his mother, and another by his former manager Ion Tiriac. At the end of the book, a whole section is given to an interview with John McEnroe, in which he discusses Becker's tennis legacy.
Andy Murray did a similar thing in his "autobiography," which included several chapters from other people in what was obviously an attempt to pad the book.
Now don't get me wrong, these parts of The Player are interesting in their own right, and give a different perspective on Becker's career and life.
However, given the book's already rather short length, it would have been much better if those sections were given to Becker himself to further elaborate on his career. Part of the problem is what Becker chooses to focus on.
He is clearly torn between giving a detailed account of his playing days, and talking about his many struggles and difficulties away from tennis. In an ideal world he would have thoroughly explored both topics, but for whatever reason he decided to address both rather half-heartedly instead.
That isn't to say that he doesn't talk about his tennis years. Indeed, the parts of the book where he does discuss the sport and his years involved in it, are truly fascinating. He particularly likes to reminisce about his first Wimbledon title, which he won at the tender age of 17.
He fondly remembers the build-up to the event, and his coach's feeling that something special was about to happen. He is somewhat less nostalgic about the media circus that engulfed him afterwards, and the media intrusions that would defined his life for the next two decades.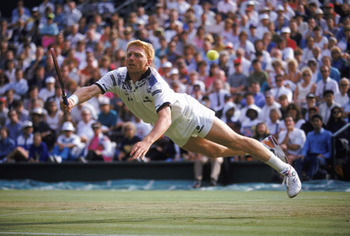 After this initial focus on tennis, the book tends to shift the sport onto the backburner, mentioning it mostly in passing. Becker actually seems pretty keen to get past the tennis parts of the book in order to focus on other issues.
His tax troubles with the German government, for example, make up a very large part of the book. He relates his financial difficulties with some bitterness, and often takes subtle swings at his persecutors, blaming them of being jealous of his success.
At one point he even directly invites the reader to be jealous of his vast fortune. Becker also spends a lot of time talking of his personal relationships and the hardships he endured in them. He relates his painful divorce from wife Barbara, as well as his tryst with model Angela Ermakova, with whom he fathered a child in 2000.
All of this is interesting enough, and one is never bored by Becker's personal trials and tribulations. But one cannot help but feel, when reading these sections, that too much time is being spent on them. Fans looking for details about life on the Tour during these years are left wanting for the most part, though every now and again there are some interesting anecdotes about fellow players.
Ivan Lendl, for example, drove Becker crazy with his constant talking before finals. Becker preferred peace and quiet before big matches, but Lendl always gave him an earful of jokes that only he found humorous. Sadly, these moments are few and far between.
Becker does spend some time talking about his relationships with the other players on the Tour. Those expecting dramatic declarations of eternal hate will be disappointed though, as he treats most of his old rivals with respect (though one gets the sense that it's a grudging respect at times).
Perhaps the only player one senses he still has some ill feelings towards is Andre Agassi. The two had a legendarily testy relationship, and neither man ever much cared for the other. In his autobiography, Agassi also takes a couple of shots at Becker, so it seems that even after all these years some of the old wounds have not yet healed.
Of the many tennis autobiographies that have been released over the past few years, Becker's doesn't quite rank as the best. It is short, often a bit off-topic and a little light on the kinds of details many potential readers will want.
That being said, it is still a pretty good read, and you'll be hard-pressed not to say you've enjoyed it when you finally put it down.