Victoria Azarenka scolds a famous tennis for using inappropriate pic
by
LORENZO CIOTTI
Victoria Azarenka scolded famous tennis insider Jose Morgado. The reporter in question used an inappropriate image in one post about Ekaterina Alexandrova's victory over Karolina Pliskova. Alexandrova defeated her rival Pliskova in Doha.
The image used for the tweet showed Alexandrova bent over in a pose that, according to Azarenka, was inappropriate to witness the victory of the tennis player. Azarenka said: "What a choice of photos for the tweet." Morgado replied: "Seriously? It was the first frame where the score/time graph appeared on the screen." Then he added: "I didn't realize until I saw your tweet now.
Deleted. Can't really post anything here these days." The journalist deleted both twee, apologizing: "Deleted. This was the relevant information to illustrate what I tweeted. Not the background (obviously). Unfortunate and unintentional.
Sorry. (It's been a tough day…)" A fan wrote about the issue: "Thanks for calling this out Vika more of this please." Another added, "Highly unprofessional and demeaning to all female touring athletes. No respect." Another wrote: "That photo is rubbish.
Seriously. Thanks Vika."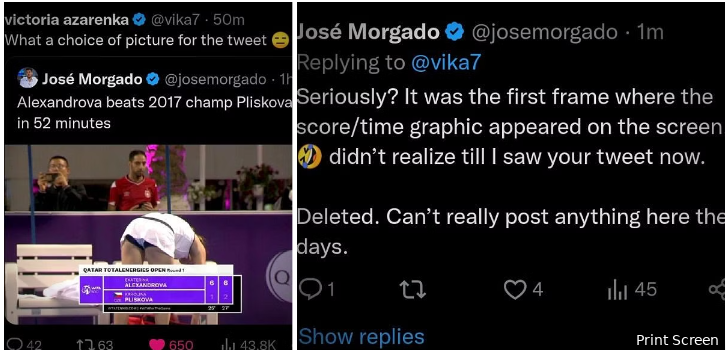 Latests on Victoria Azarenka
Victoria Azarenka's extraordinary path at the Australian Open ended in the semifinals. The Belarusian player could not beat Elena Rybakina and lost with the score of (4) 6-7, 3-6.
She said: "It's a hard defeat to digest right now. I had many chances, not converting them was decisive. I can't say I'm proud of my game, but I'm happy to have expressed this level in a Grand Slam. I am proud of the way I fought, but my tennis fell short in the decisive moments today.
It's tough now, but in a couple of hours I'll have a different view of the month spent in Australia. I was handling her serve very well, then I just couldn't adjust. She served great." Azarenka also talked about the incident regarding Novak Djokovic's father issue at the Australian Open: "You're talking about it now and from this I take it that this is a topic you want to keep bringing up again and again.
I don't know what you want me to say. I don't understand what this has to do with Djokovic, honestly. Today I spoke to one of the security personnel, I've known him for years, and he explained to me what happened. I don't know what you want us players to do about it.
I don't know what your goal is, these incidents have nothing to do with athletes and you continue to involve us. Any answer I give will be used and twisted. What worries me is that there are real things happening in the world.
I am a gamer and you are asking me things that are not within my control. If it's a provocative question, you can tell the story however you like."
Victoria Azarenka
Ekaterina Alexandrova
Karolina Pliskova