Nick Kyrgios has reached an unprecedented milestone!
by
LORENZO CIOTTI
Nick Kyrgios has reached an unprecedented milestone. The Australian tennis player has in fact accumulated over 4.2 million followers on his social media channels. Nick thanked his followers through an Instagram story, in which the Wimbledon 2022 finalist wrote: "4.2 milly!
Appreciate the love & support I'll be back soon!"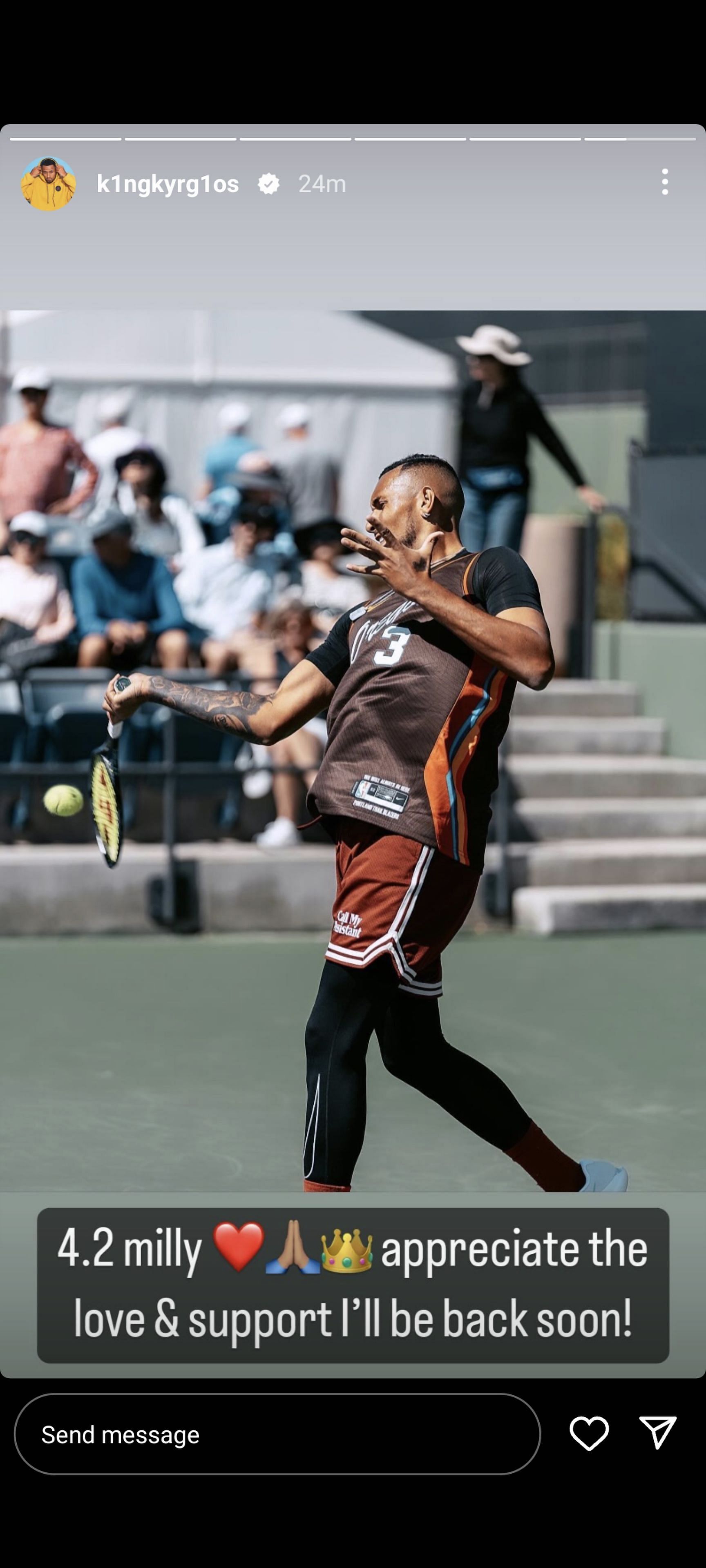 Kyrgios has no doubts: "Novak Djokovic is the GOAT"
Nick Kyrgios has been out of the Stuttgart grass tournament due to injury. 2023 now seems over for the tennis player, he makes no predictions about the return date even if fans hope to see him among the protagonists at the 2024 Australian Open.
There is still a long way to go and in the meantime Nick enjoys interviews where he talks about tennis and more. The tennis player spoke during the Mike Tyson Podcast and he talked about the Big Three.
Here are his words specifically: "My most memorable victory is undoubtedly the first against Roger Federer, it is the most memorable one.
I didn't even manage to enjoy it and celebrate because I had to play the next day. I was only 19 years old and I still had to face among the big names."
Regarding the fight on the GOAT, Nick bluntly expresses his opinion and reveals: "Novak Djokovic is the greatest of all time, he has 24 Slams and I believe he will win at least a couple more.
It's crazy and I find it absurd that he doesn't receive the credit he deserves. I fought with Nadal, sometimes he won and sometimes I won and then there was Roger Federer. No matter where, the crowd was always rooting for him.
I think Nole is the GOAT but for me Roger Federer was the most difficult to face. He was always very aggressive on the court and his game left you no space and you didn't even have time to breathe."
Finally, an anecdote about the match against Nadal: "There were nights when I stayed in the pub until 4 in the morning.
My agent kicked me out and made me go home, I played at Wimbledon against Rafa and won after 4 hard-fought sets. Maybe if If I went to sleep at 11 something would have changed."
Nick Kyrgios
• Latest Nick Kyrgios update as Brisbane boss has important message for Australian star
• Nick Kyrgios laughs at suggestion that Jannik Sinner gave Novak Djokovic nightmares
• Nick Kyrgios reacts to Jannik Sinner achieving his major feat against Novak Djokovic
• Nick Kyrgios' blunt message for those criticizing his performance on Tennis Channel
• Nick Kyrgios rips Boris Becker's take on Carlos Alcaraz
• Nick Kyrgios confesses his biggest life regret