Holger Rune's sister shocks: "Threats against me and my family"
by
LORENZO CIOTTI
Alma, the sister of Dane young tennis champion Holger Rune, denounced through Instagram how she and her family were victims of threats, abuse and intimidation on social media, after the defeat of Holger at the 2023 edition of the Rolex Shanghai Masters.
Rune is going through a complicated period in his career, with negative results and inadequate performances. This has made the young Danish tennis player the target of haters on social media, who accuse him of lacking commitment.
The waves of social hatred are increasingly frequent and increasingly harsh, a social phenomenon that is unfortunately getting out of hand among those who should be vigilant about it. But this time they also involved Holger's family.
After the Dane was eliminated from the Shanghai Masters, her sister Alma said that she and her family were receiving threats on social media, adding that she would report the matter to the police. She wrote on through her Instagram stories: "Just to be very clear, threats against me and my family has and will be reported to the police.
And for information, the consequences are not milder because it's online. And for all the other hateful messages.. please, it doesn't hurt to try and be nice."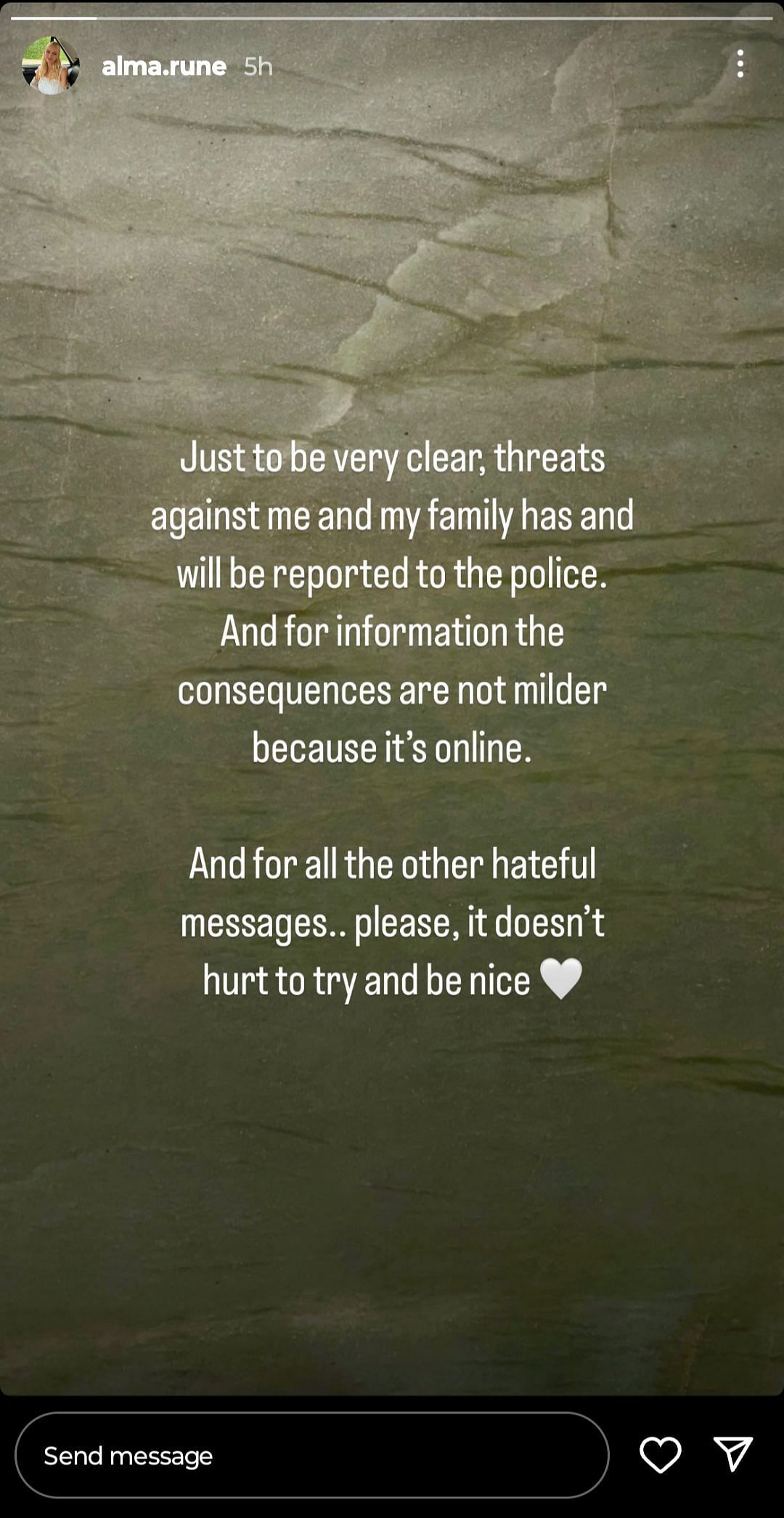 Rune eliminated at Rolex Shanghai Masters.
The Dane, seed no.3, was sensationally eliminated from world no.
122 Brandon Nakashima in the round of 32 at the Rolex Shanghai Masters2023. The Dane was beaten 6-0, 6-2 in an hour and nine minutes. It was Rune's sixth defeat since his Wimbledon quarterfinal defeat to Carlos Alcaraz.
The Day 4 of the ATP Masters 1000 tournament in Shanghai sees the top-half players playing in the second round, plus Jannik Sinner and Daniil Medvedev, part of the bottom-half.
The number four seed Stefanos Tsitsipas, not in the best physical condition, is looking for important points in view of the ATP Finals, starting with the test Rinky Hijikata, a player coming from the qualifiers.
Next, the Beijing ATP 500 finalist Daniil Medvedev, who arrived in Shanghai a few days ago, challenges Cristian Garin.
In the evening session, the top seed and two-time Slam champion Carlos Alcaraz takes to the field against the Frenchman Gregoire Barrere.
The central court program ends with the match between Taylor Fritz, a player still fighting for a place in the ATP Finals, and Yosuke Watanuki, a Japanese player.
Holger Rune
• Boris Becker announces big news with Holger Rune
• PTCA Analysis: Holger Rune's Journey Back to Excellence Through Self-Backed Belief
• Holger Rune makes decision on working with Boris Becker in 2024
• Holger Rune's mother shares a big praise for her son's team!
• Novak Djokovic bluntly responds to reporter calling Jannik Sinner, Holger Rune 'kids'
• A former ace rips Holger Rune: "It was arrogant"