"Get cancer and die" Linda Noskova shocked by horrible hatred wave
by
LORENZO CIOTTI
The young tennis player Linda Noskova was overwhelmed by a shameful and horrible wave of hatred on social media, with many haters wishing her insulting and very serious sentences. The inexplicable, unmotivated wave of malice and disrespect used by haters was documented by the young tennis player, who shared all the serious insults directed at her.
Linda shared her experiences showing once again what is the dark side of tennis and sport in general. We will not repeat the horrible words that were addressed to her, which you will still be able to find below, shared by the athlete herself among her Instagram stories.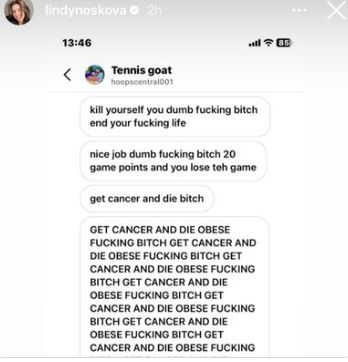 Hate in sport: it can and must be stopped
Coco Gauff was the last to talk about the haters and how she read the negative comments on social media: "I think after the victory in Washington I started doing it, because before I silenced all the words and didn't go on my account, I deleted it and everything.
I realized that my personality isn't like that. My parents know that I am stubborn and that I like to prove people wrong. So the more I read it, the more I wanted to prove them wrong.
In Washington I saw a tweet that said: Only wins 250 tournaments.
Then I won the WTA 500 in Washington. People said it would be the end, a victory in failure. Then I won the WTA 1000 in Cincinnati and people said that I only won it because some players were not rested, they were not physically well and this would never have happened in a Slam.
I'm just exaggerating. There's something very satisfying about silencing the haters. I'm very curious to move forward and see what else they say." This toxicity phenomenon affects not only athletes, but many people in everyday life.
It is everyone's duty to be able to report these abuses that occur on digital channels, with the bodies that should absolutely monitor these situations more which can also lead to dramatic consequences.
Linda Noskova