WTA Lexington Entry List: Serena Williams will be there!
by
LORENZO CIOTTI
| VIEW 14649
Serena Williams will be seed no.1 for the upcoming Lexington Open, in the USA. The WTA International will take place from 10 August 2020, simultaneously with the WTA international in Prague, on clay-courts. However, in Kentucky there are still many problems related to the global pandemic caused by the spread of Covid-19: there is therefore still some doubt about the real progress of the American tournament.
Garbine Muguruza, Johanna Konta, Aryna Sabalenka, Amanda Ansimova, Yulia Putintseva, Sloane Stephens, Cori Gauff and Victoria Azarenka should also be on the court. Many absences between the top-10 and the other stars: Ashleigh Barty, Simona Halep, Naomi Osaka, Karolina Pliskova, Sofia Kenin, Bianca Andreescu, Petra Kvitova, Angelique Kerber and Elina Svitolina.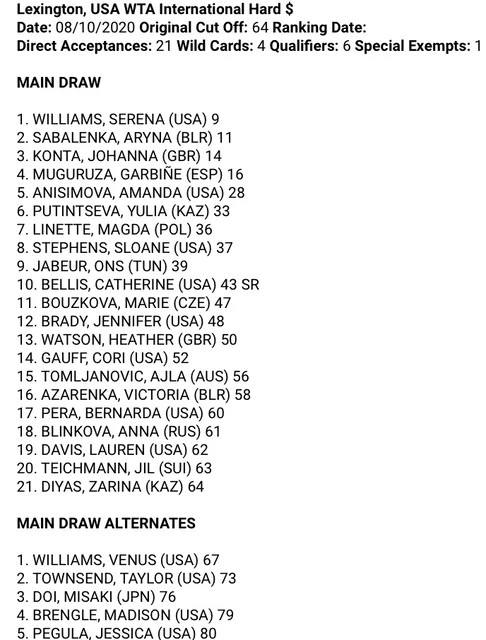 Cincinnati Entry List: Serena on the court, out Barty, Halep and Osaka!
Exceptionally this year the Western and Southern Open, combined ATP / WTA, will not be in Cincinnati, but in New York, in order to centralize tournaments on the American hard-courts only in one place, after the global pandemic hit very seriously the USA .
As for women's singles, five of the top ten players in the world will be missing, including the WTA ranking No. 1 Ashleigh Barty and the No. 1. 2 Simona Halep. Out also Bianca Andreescu, Naomi Osaka and Elina Svitolina: five stars in doubt also for the upcoming US Open.
Barty had expressed his doubts as early as early June, while Halep had already chosen to play only in Europe. Andreescu didn't play a match from the Shenzhen WTA Finals last October when he had to retire due to a knee problem.
The former n. World 1 Naomi Osaka, who dropped to tenth place, made it to the lockdown with two consecutive defeats, at the Australian Open against Cori Gauff and in the Fed Cup against Sorribes Tormo. The absence of Elina Svitolina is not a surprise: she said that she was worried about the situation of the infections not in New York, but in other States of the USA.
Angelique Kerber seems not to have resolved her doubts about the trip to New York. There should be Serena Williams instead. Also present are Sofia Kenin, Karolina Pliskova, Kiki Bertens, Belinda Bencic, Petra Kvitova, Johanna Konta, Garbine Muguruza and Cori Gauff.
These are the absences related to the Western and Southern Open: For now there is no news regarding the US Open, although it could be probable that the tennis players who will not play Cincinnati could also decide to skip the New York Slam.